Our Mission
The purpose of the International Association of R.S. Prussia Collectors, Inc. is to interest and educate individuals in collecting R.S. Prussia and to promote friendship.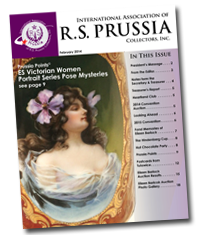 Welcome to Our Site!
Welcome to the official website of the International Association of R.S. Prussia Collectors, Inc. Do you have a passion for the delicate, translucent, beautifully decorated porcelain of yesteryear as our members do? We invite you to see what we are all about and explore the many reasons for becoming a member. Discover the history of R.S. Prussia porcelain, view our gallery, read the history and purpose of our club and learn about our conventions where we gather to buy, sell, and attend educational seminars each year. Our recent seminars have included presentations that covered factory history in Tillowitz, Poland; "Marks and Mysteries", Unusual items ("show and tell" meetings), informational updates from Lee Marple (co-author of several collector books) and information on insuring collectibles.
Our members share information and photos of their personal collections and submit enlightening stories of their search for R.S. Prussia and related china in our quarterly, full color, magazine-quality newsletters. The newsletters also contains fascinating historical information, new discoveries and collecting tips.
We enjoy each others company and many of us have formed longtime friendships. We are a "family" of collectors that invite you to join the fun and excitement of our hobby.
Don't hesitate! Join today by downloading the membership application and mail it with your check to our secretary/treasurer team. New, first-time members pay only $30. You will receive a new member packet and information on the upcoming convention where you can start to enjoy and share your hobby with our group.
Thank you for visiting our site,
Harold Dodds, Jr.
President,
International Association of R.S. Prussia Collectors, Inc.